Creating Transformative Change Takes Careful Planning & Design
On January 23-25th, CYCLE and the Nellie Mae Education Foundation (NMEF) gathered over 50 district leaders, principals, teachers, and community members from six different school districts for the second Understanding Root Causes of Inequities convening. This gathering, titled Creating Transformative Change, focused on giving district teams opportunities to learn from each other and from different systems, and ultimately apply new tools to their own local contexts. In our role at CYCLE, we have the privilege of designing and facilitating quite a few convenings like this, and are excited to share some planning and design practices that we hope are useful for you when you're planning a gathering to bring folks together.
1. We Scaffold Our Learning
We think about the learning goals for convening whenever we start the design process. In the case of Creating Transformative Change, we knew that districts were generally all at a stage where they were getting back results from an initial data gathering phase aimed at deepening their understanding of inequities in their schools and communities. Knowing this, we identified three main goals, which mapped onto the three day agenda:
Day 1, Inquiry: Build understanding of the work underway in each district

Day 2, Sense-making: Develop new connections within and beyond each district, in order to share insights, challenges, and lessons learned

Day 3, Making and planning for change: Increase individual and collective skills and knowledge to further an equity lens in districts' work
The arc of the agenda reflected a through line regarding how we thought about building our learning across the three days we spent together. The themes also helped organize the content and activities we planned for each day.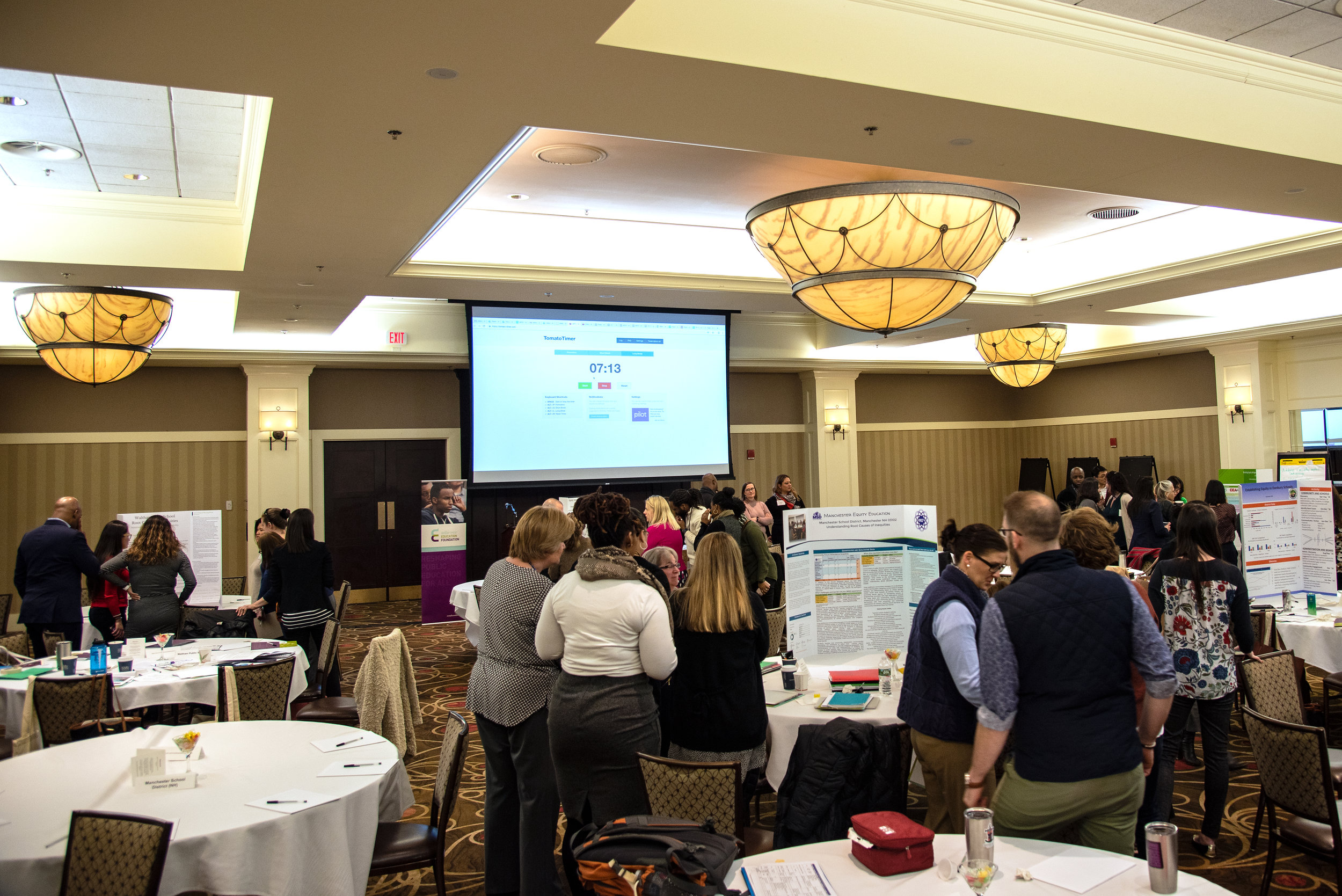 2. We Learn from Each Other
We value partnership and learning at CYCLE, which means we believe that the people closest to the work have important wisdom and expertise to share. For the convening, we knew that in bringing together six districts from across the region that there would already be a lot of knowledge in the room and that our role as designers and facilitators was to create opportunities for this knowledge to be shared. Therefore, we spent a significant amount of time on day 1 in a poster session, where each district had time to share where they were in their learning and to pose a dilemma or a challenge with which they were still grappling. Then, leaning upon the experience of everyone together through consultancies, individual teams could share their dilemmas so that participants from other districts could help generate some creative new ways to think about these challenges. We prioritized generating new ways of thinking as opposed to solutions, knowing that the work of addressing root causes of inequities is ultimately an adaptive, rather than technical, challenge.
3. We Learn Across Systems
We know that education and schooling are not closed systems, and that there is a lot to learn from other systems. As a part of day 2, we had a panel comprised of a community organizer, a district superintendent and a principal, and a county government official. These presenters each brought different approaches and frameworks for change, from how a model of community organizing can help districts rethink power to create change, to how the complex and multi-faceted nature of systems-level change requires a unifying theory of change. After the panel, each presenter had a follow up workshop, which gave participants a deeper dive into the content and an opportunity to think about how these frameworks might be applicable for each of these districts.
Having attended multiple conferences as a team, we recognize that the most impactful moments we sometimes have in these spaces are when we have time to process and apply our learning together. In designing this convening, we built ample time into the agenda for what we called "team time." We wanted to make sure that teams were able to digest not only the feedback they were receiving from their peers but also integrate new tools they were gaining and adapt them to their local contexts. Additionally, because conference attendees were coming in teams, we were responding to requests to have time in their project teams to get work done together. Knowing how precious people's time is, we built in extensive time for teamwork and also provided CYCLE staff members as support with facilitating those team times.

In the feedback that we received after the convening, people appreciated the balance of learning from each other, from the panelists, and having the time to process in their teams. For many participants, having these three days together gave them both the time and the space to really center their thinking on racial equity and to plan for weaving equity work into the fabric of their district culture and practices.
We hope these successful practices might be helpful to other people in the field who are designing convenings. To learn more about what we do at CYCLE, including the other types of convenings we design and facilitate, check out the Youth Leadership Institute and the Lead Community Partners work happening on the CYCLE website!
Prepared by Kristy Luk
Photos by Jon Martinez